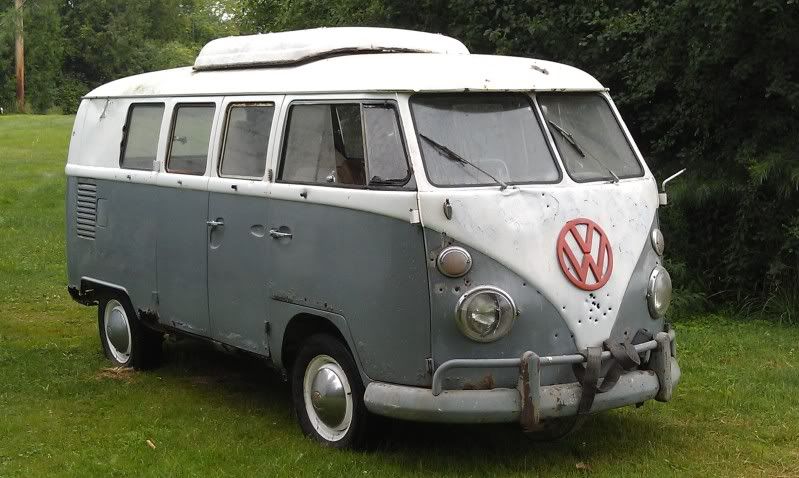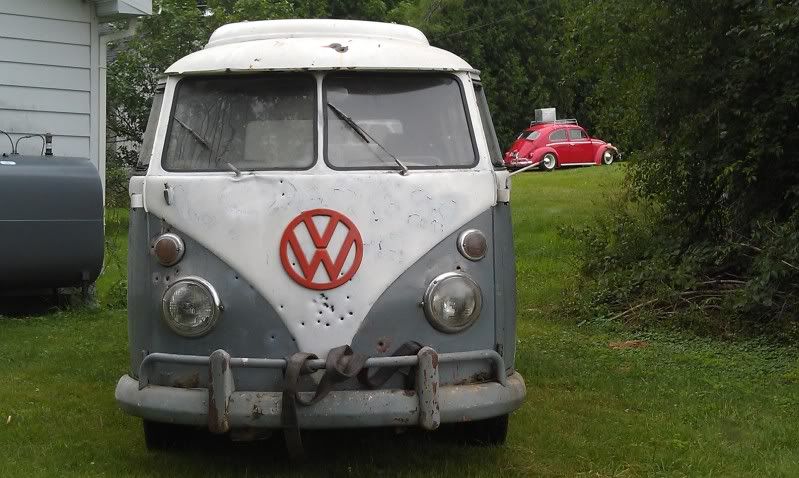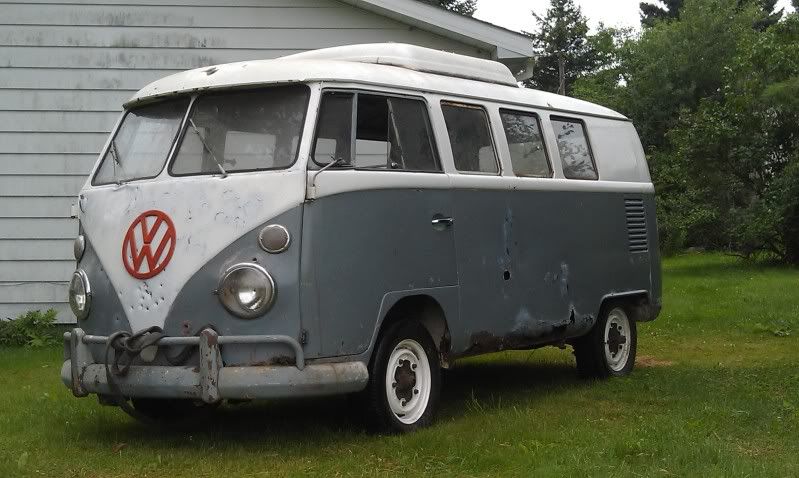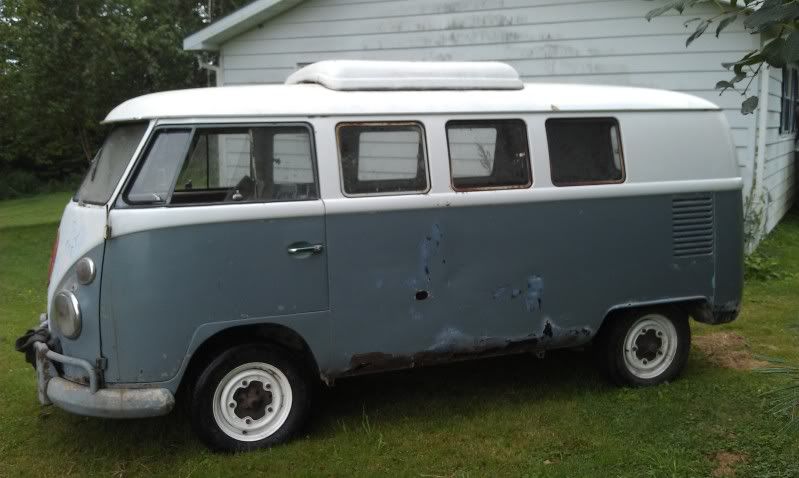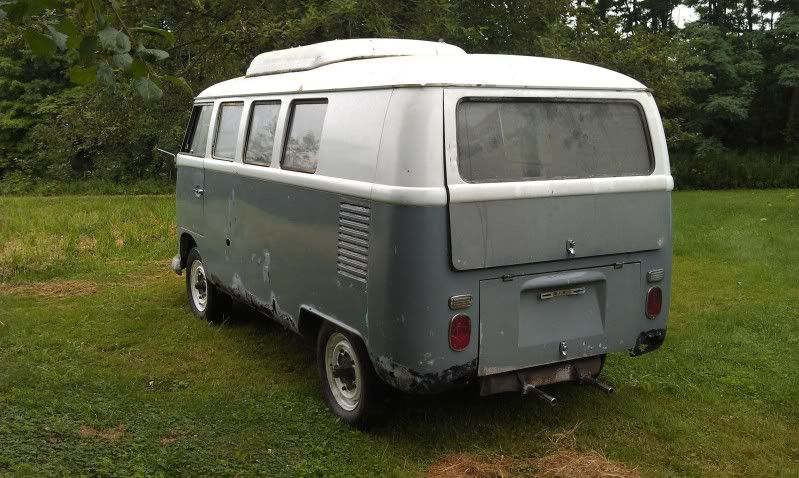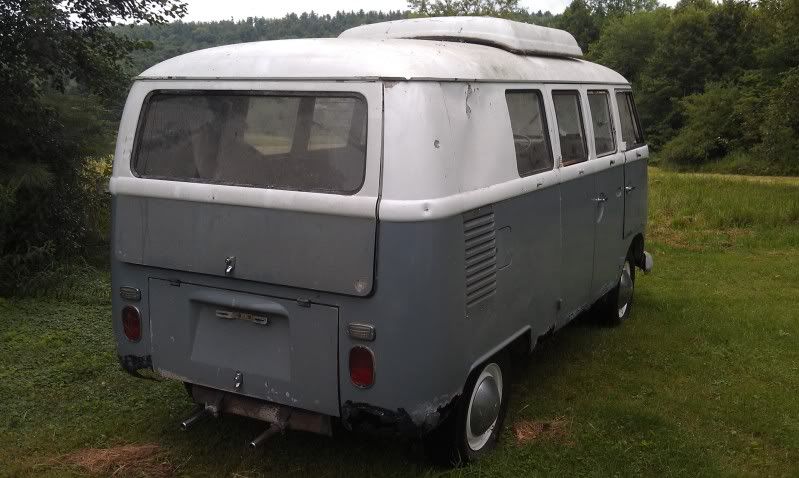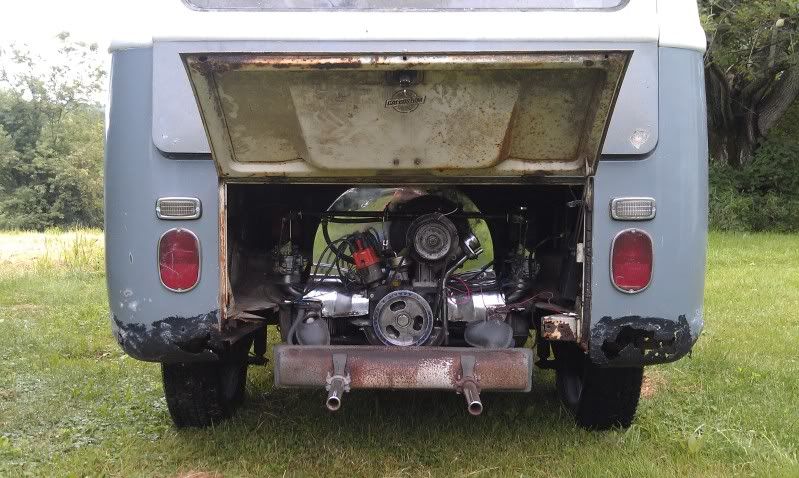 FIRST THING:
This bus has NO TITLE!!!! Vermont only requires a bill of sale to register any vehicle after the vehicle reaches 15 years old. Old titles usually get lost in the shuffle and thats what happened to the title for this bus. If you live in Vermont, you can regester this bus without any problem. If you live in another state or country you will need to look into how to regester or aquire a title if you need one. I will sign any papers i need to in order to help you in this process. THIS BUS HAS NO TITLE! I can provide you with a bill of sale only!! Buyer is responsible for acquiring a title for their state if needed!!! I will also tell you that I have also NEVER personally registered this bus!!! It has been off the road and under shelter the whole time i have owned it.
Now about the bus!!
Here we have a 1967 VW Westfalia Camper walkthrough bus. For those of you who don't know, it started life as a stock 11 window standard bus. It was then converted by VW/Westfailia at the factory to be a camper. It is NOT a panel bus with holes cut in the side sheet metal for windows like I'm sure you have seen. Because of this the only REAL difference between this bus being a camper or a standard bus is the pop top in the roof. It measures about 4'x4' and is centered above the rear cargo doors.
Currently, this bus starts, runs, and drives. It DOES NOT STOP. The brakes are not working. The master cylinder resivoir is missing and the brake lines are rusty. It needs a full brake overhaul to drive on the road. I do have a couple of videos, one of wich is me driving the bus.
https://www.youtube.com/watch?v=aHTpu1pdSOs
https://www.youtube.com/watch?v=8Rxh9fd9eD8
Because this bus is a 1967, you get the best of both worlds. You get a split front windshield, and you get a 12v electrical system from the factory. No converting from 6v needed. This bus is missing most of the interior. It comes with only the front seats (missing fabric), the rear seat bed (Zbed) that is in rough shape and will need new wood mounts and the rear cussion that sits on top of the deck above the motor. It also has some home made door and interior panels.
This bus has rust! It will need repair in the rocker panels, rear lower corners, lower nose, cargo and front floor. It has bullet holes in the nose and one? I think in the right rear near the last side window opening. If you have never fixed rust before you might want to avoid a project like this one. It would be a great father son project. You can see my red beetle in the background of one of the pics. My father and I restored that together and it will be with me forever because of that. All parts are available and this bus is just dying to get back on the road to carry your friends, or put back to stock and go camping!
I should also mention that in the pics you can see the side windows are the pop out style like the standard bus' came with. I do have the correct slat style camper windows as well. The bus also comes with the rear valance and rear bumper that you can not see in the pics. THe hatch and decklid look to be a different color, this is dust because they have been open in the garage for some time now.
Its on ebay for a buy it now of $4000. I'll sell it here for $3500. If you buy it wolfsgart weekend you can have it for $3000. ONLY WG WEEKEND.
Enjoy!
_________________
_____________7/_||_\\__ ______________________________________
_____________|( )____( )|_______Scirocco________________________
o'trebla wrote:
everyone loves a happy volkswagen
squattro wrote:
prepare for automatic transmission to automatically stop transmissing