So, my little side business of repairing/rebuilding Hearthstone stoves is picking up. combine that, with lots of tools, and needing the space to transport a stove or two, I have determined my truck needs an overhaul.
Said truck is a 97' LD f-250, or "heavy half ton" with an 8ft box, 8ft plow. It has just under 200k miles, so its time for some maintenance.
So far I have done front brakes, BOTH exhaust manifolds/gaskets, front hub/wheel bearing, starter, battery, fuel tank. Now the fun begins. I am replacing the rotten box with a steel service body, to house all my tools, and still be able to carry 2 stoves. In addition, the fuel pump is acting up. I am troubling shooting it now, as it has power-until I connect the ground, then it quits. I can run power straight to the pump and it works, but if I connect the factory plug to it, and ground it-it quits.
I am thinking about mounting a small air compressor in one of the boxes, but unsure as of now. Last night the box came off, to expose the frame, and fuel pump. I am going to clean the frame up, and put a coat of paint on it, as well as replace things I now have access to, like e brake cables, brake lines-if I need to.
Last night I grabbed a 12 pack and a friend, and started cutting: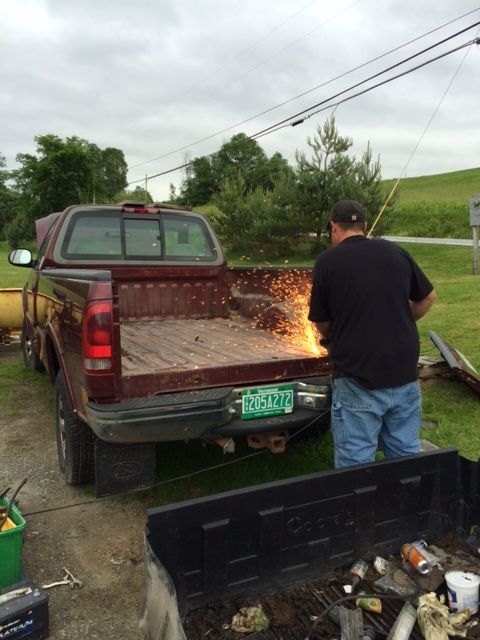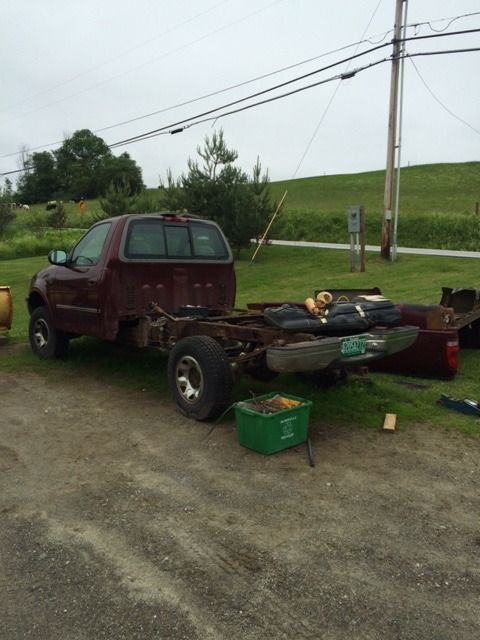 I may do a color change, when its all together. We will see..
oh, and if you have a Hearthstone that needs work, or you wanna buy one, hit me up...